Sue Heintz, President Channel Management Professionals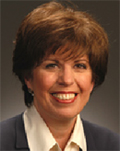 Sue is a results oriented marketing executive with 25+ years of demonstrated success in diverse industries that include high technology, classic industrial and building products, as well as consumer products. She brings highly specialized expertise in all aspects of channel strategy, development and management, including new channel creation, entry and growth tactics. And she offers a truly international perspective, having lived/worked in Europe, Latin America and Asia.
For two years, Sue served as Vice President, Worldwide Channel Strategy for Avaya. While in this position, she successfully linked the channel strategy to seven key operating measures for the business, improving performance in: time to market, pricing accuracy and management costs, channel retention, sales and development planning accuracy, incremental revenue generation, inventory carrying costs and overall organizational understanding of the strategy.
Sue spent the majority of her career as a Senior Partner and Director of Frank Lynn and Associates, an international consulting firm that specialized in helping businesses design, select, manage, support and compensate multiple channel systems, both direct and indirect. She chaired three practice areas for the firm: new technology, telecommunications and channel management. Representative clients included:
Fortune 500/Global 500 companies: Communications Hardware and Services Companies: Lucent, Avaya, IBM, Motorola, Ericsson, Siemens, Nortel, Cisco, AT&T, AT&T Wireless, Tellabs, Ameritech, SBC, BellSouth, Symbol, Telstra, KPN; Software Companies: Rasna, Autographics, Industrial Companies: Moore Corporation, 3M, Saint-Gobain, Tektronix, Raychem, ABB, The Donaldson Company; Consumer Companies: Kodak, Pella, Aristocraft, Carrier

Intrapreneurships (ventures within Compaq, IBM and Motorola)

Start-ups preparing for their second round of venture capital funding (Proxim, Poynting, Autographics, Rasna, Shared Financial, CimLinc)

Sue's passion for excellence in channel management resulted in several workshops which she developed and presented around the globe - and a book, The Channel Selection Handbook, which she co-authored. Sue has spoken and coached extensively on the topic in such forums as The Conference Board, Supercomm, the University of Chicago, and the University of Wisconsin's Grainger Institute.
Sue was a Founding Board Member of The Enterprise Communications Association – an association created to help both suppliers and their channels understand and meet the business requirements of a converged communications marketplace.
Additionally, she was a co-founder and Vice President, Marketing of TelecomInsights, LLC – a web-based training and consulting business focused on helping product, sales and marketing professionals understand how to work with telecom service providers around the world.
Sue holds a B.A. Magna Cum Laude from Loyola University and MBA with Distinction from Northwestern's Kellogg School of Management.